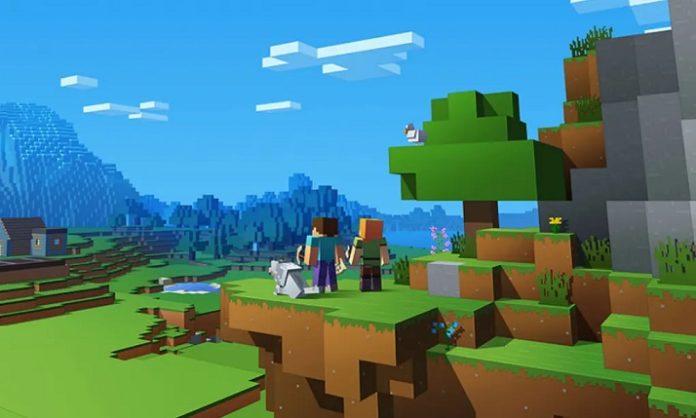 You've probably heard the term "Minecraft" a lot in your house. Since the block game was released on pc at the end of 2011, children, teenagers, and adults have been captivated by the game created by Mojang. But what exactly is Minecraft? How can you play this classic game online for free?
If you're not sure what we're talking about, we'll explain it to you. Minecraft classic is an open world video game in which exploration and building are essential. It was created by Markus Notch Persson and allows us to create our own wonderful and artistic universes by arranging and breaking bricks. It is an open-world video game with no clear mission (apart for some of its game modes) that consists of free creation using cubes with 3D textures.
The blocks represent various parts of nature, and the player can travel around and manipulate the environment by making, collecting, and transferring these blocks. Because they are generated by algorithms, no two worlds are ever the same.
Mine craft has four Game Modes
Survival: This is the default mode. We must gather resources and withstand the attacks of many creatures that emerge from the darkness until we are able to destroy the dragon. To attain this purpose, our guy has ten hearts of life.
Creative: We establish the rules of the game, and we can build however we want. We have infinite resources from all of the blocks and objects in the game. We are not assaulted by any monsters, nor do we sustain any harm.
Adventure: Intended for players that are passionate about creating maps for other users. We cannot break blocks to build structures; we can only break them if we have the appropriate tool. The difficulty cannot be changed in some versions.
Spectator mode: We can continue playing even if we are killed, and we can view the game.
How to Play Minecraft
Starting to play Minecraft: Creating an account
Whether you plan to buy Minecraft or just play the demo, the first step in this instruction is to register an account with Mojang, the company that created the game. With an active email address, you can do this straight from their website.
The server will then guide you to the URL to download the game to your computer if you play through this support, where you will find the launcher installation files.
Minecraft start screen
Because you haven't yet built a world, you'll have to select Create new world. You must rename the scenario and begin the game by clicking the Creative Mode, commonly known as God Mode, button. Otherwise, you'll start in survival mode.
Explore the game controls
The map is generated at random by the game. You will have an easier or harder difficulty surviving depending on its type. You don't have to think about taking damage or dying because you're playing in Creative Mode.
The first thing you should do before departing to explore the map is to open the inventory. You can do this by pressing the E button. Because you control the stage, you will notice that it is completely stocked with tools and materials that are ready to use.
Minecraft blocks: What are they and what are they for?
The Creative Mode is useful for this reason, as it allows you to experiment with different combinations of materials to create each of them. There is no fear of being attacked if you take as much time as you like.
When these blocks are arranged in the correct order, they form structures. They are not all equally resistant, nor do they all show in the same abundance on the map. Minerals are one example, which must be mined with a pickaxe. Wood appears in various trees and can be extracted by hand or with an axe.
Outside the inventory, which you can quit by using the ESC key, a bar of gray blocks appears at the bottom of the screen. These are the quick access buttons, where you can place goods in your inventory to easily reach them.
The primary mining and manufacturing tools should ideally be located in the fast access bar, but in creative mode, you'll be using blocks more than anything else.
Simply point the mouse – the viewfinder in this case – at an empty location and right-click to place a block.
What is Minecraft Dungeon?
The sequel to the best-selling game of all time is now available on all platforms.
One would think about Tetris, Super Mario, Solitaire or the indomitable Grand Theft Auto as the best-selling video game in history, but no. This award goes to 'Minecraft,' which recently exceeded the 200 million copy sold mark.
This open-world game, which debuted a decade ago, encourages user creativity by permitting endless three-dimensional creations, always based on cubes, and with the task of surviving various threats.
Now, the responsible studio (the Swedish Mojang) surprises with a Microsoft-protected spin-off. In a homage to classic dungeon titles, Minecraft Dungeons combines action and adventure. The goal is to explore the latter alone or with three friends, decimating hordes, arming ourselves with weapons, and collecting important treasures. The mode of play is determined by each individual: we can assault melee, ranged, or serve as a parapet for the rest of the squad, which necessitates teamwork.
What is Minecraft Classic?
Minecraft Classic is the original version of the game. It is a game created by Markus Persson (who is currently absent from the project) and his firm Mojang AB. It was first released in 2009, but after multiple adjustments, the most comprehensive version was released in 2011, and it has been built on patches since then.
Since then, new versions have been produced (both for mobile and for portable and desktop consoles), and it has sold over 140 million sales, making it a classic on platforms like YouTube or Twitch, alongside other greats like Fortnite. Microsoft purchased Mojang in 2014 and has now released Minecraft Classic for free, as announced on their website.
How to Play Free Minecraft Online?
Since Mine craft game is now owned by Microsoft, so its not a free game. Visit here for more games from Microsoft. However, you can play free Mine craft online by trying out the OG Minecraft Classic version of the game which was released for Windows 10.
Conclusion
Minecraft is an excellent game for introducing children to the world of programming because some Java code is visible, particularly when updating the classes of the characters and defining variables and conditioners. Mods are a great approach to teach kids how to code in a simple way. In addition, we can learn how to establish our own servers if we want to play in multiplayer mode.